Abel's Hill Cemetery

Located on South Road in Chilmark, Mass.

Photographs and transcripts compiled by C. Baer, 1999. Biographical notes are from The History of Martha's Vineyard by Dr. Charles Banks.
These photographs and transcripts were collected from some of the colonial gravestones at Abel's Hill Cemetery in Chilmark, Dukes Co., Mass. The photos were taken with a digital camera in February, 1999. I hope to add more eventually.

Alphabetical List of Gravestones:

Col. John Allen (1767)
William Allen (1746)

Mrs. Mary Bassett (1743)
Nathan Bassett (1743)

Mrs. Bethiah Clark (1734/35)

Mrs. Jane Hunt (1732)
Mrs. Sarah Hunt (1770)

Mrs. Mary Mayhew (1783)
Nathaniel Mayhew (1720)
Paine Mayhew (1761)
Zephaniah Mayhew (1733) (No photo yet.)

Samuel Norton Esqr. (1760) (No photo yet.)

Mrs. Abigail Skiff(e) (1738/39)
Benjamin Skiff(e) Esq. (1717/18)
Mrs. Hannah Skiff(e) (1758)

Mrs. Abigail Smith (1718)
Shubael Smith (1734)

Mrs. Ruth Tilton (1740)
---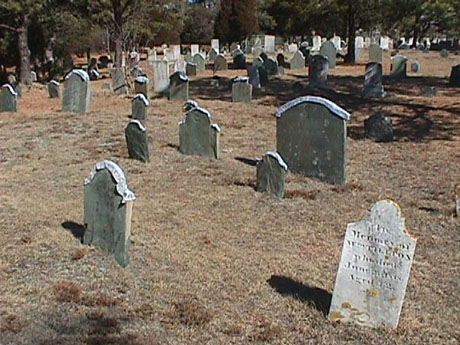 Abel's Hill Cemetery. Protective lead covers have been placed on the older slate stones. More views!

---
Do you have any suggestions, corrections, or comments about this web page? Email me at cbaer@vineyard.net