'Five Corners,' Vineyard Haven
John's Fish Market and Mike Fontes Paint Shop (now the Vineyard Color Center) on the corner of Beach Street and Lagoon Pond Road (now the Post Office lot.) The paint shop was moved from here to its present location on Lagoon Pond Road.
The original location of the paint shop was on the corner of Main and Union Streets next to what was later Shirley's Hardware. It was then moved next to Rheno's where it became Ellis Manter's Show Store. It was next moved to the rear of Cronig Brothers' Store on Church Street. It was then moved to the location shown on this picture.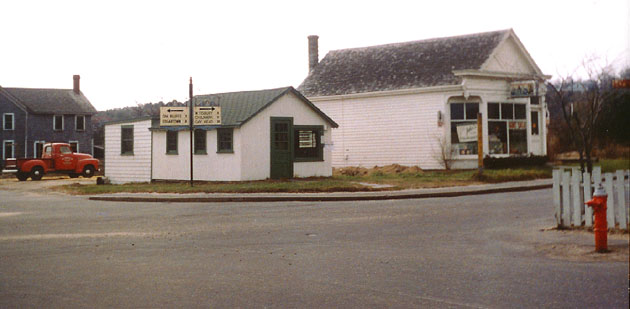 Here's another view of Five Corners.
---
Comments? Questions? Corrections? Suggestions? Write the compiler.
Back to the Tisbury History