Main Street, Vineyard Haven, MA: Church Street to Drummer Lane
Site 35: The North End Bakery
---
The following is a history of the buildings and businesses that have stood over the past two centuries on the site of the building currently occupied by The Bagel Authority and LeGrenier, on the west side of Main Street in Vineyard Haven, Mass.

This is an unfinished draft! Do you have any memories of any of the other people, places, businesses or events mentioned here? Or do you have corrections, additions, or suggestions? Please contact Chris Baer <cbaer@vineyard.net>



---


Bodfish & Call Grocery, 1906 - Employees Sam Cronig (left) and Bill Claghorn (right). Photo courtesy Ruth (Cronig) Stiller


John Holmes Jr. and Charles A. Luce wrote about the house that stood here before the fire:
"Mrs. William C. Dunham's House. The most northerly house burned. Built by Capt. Peter Manter, nearly 100 years ago. He was father of Peter Manter, the last tenant of the old Trask house, before alluded to. [Site #31] His widow, the late Mrs. Polly Manter, lived in the house for about fifty years. Was purchased by Capt. William Cottle Dunham on his retirement from the sea. He was first a whaler and later commanded ships in the merchant service."

Gratia Harrington, in a 1967 article for the Gazette, wrote about the store that stood here after the fire:
"In [the early 1890s] this was a grocery, its owner, Capt. Warren Luce, a retired whaling captain. He was a neat little man with a neat, close-cut beard, and his store was as neat and well ordered as, I am certain, were the ships which he commanded. Capt. Warren and his wife, Aunt Almira, lived above the store. Aunt Almira, as she was called by her relatives and many who were not, was a plump, comfortable soul who was especially endeared to me for a very special reason. I was the youngest of the family and, as my sisters were all in school, my mother, if she wished to attend an afternoon meeting, had no choice but to take me with her. My boredom on such occasions was supreme. However, on the happy day when the missionary meeting was held at Aunt Almira's, she presented me with an apple and a large piece of molasses taffy. Not only was I overcome with the apple and the candy, but also I was much intrigued because Aunt Almira's hair, originally sandy but now somewhat mixed with white, was almost an exact match of the molasses candy. This couple had two sons, one a Methodist minister and the other a furniture merchant in Dock Square in Boston."
---
Polly Manter's Home (180? - 1873)
Mrs. Mary "Polly" (Case) Manter (1787 - 1873) lived in the house that once stood at this location. Her home was evidently built here by her husband Capt. Peter Manter (1782 - 1827) around the turn of the nineteenth century. Mrs. Manter's ancestry is uncertain, but Peter was the son of Tisbury yeoman Jonathan Manter and Sarah Chase. After the Peter's death, Polly lived here with her son Peter Manter (1812-?), a Tisbury painter, and his family. Young Peter had married Charlotte Nye (1827 - 1896) during the 1850s, and after Polly's death Peter and "Lottie" moved out and opened a boarding house down the street - see Site #31.
In July 1845, Polly Manter deeded her home and land at this site to her son-in-law, Tisbury shipmaster Capt. Charles Downs, for $900. Polly reserved "for my sole use and improvement during my natural life, the south half of the dwelling house together with the one half of the above described lot of land." Tisbury trader Jirah Luce (1818-) and his family boarded with them in 1850.
Polly Manter died in April 1873 at the age of 85 due to a "fracture of hip joint," according to her death record. The Gazette explained that she "fractured her hip by a fall a few weeks since."
---
Charles and Mary Downs' property (1845 - c.1873?)
Polly Manter's daughter Mrs. Mary Pease (Manter) Downs (1807-1887) also held an interest in her mother's property. As mentioned above, in July 1845 Polly Manter sold a portion of this lot, located on the corner of the lane, to Mary's husband Capt. Charles Downs (1800-1876), and this property evidently remained in the family until 1879. Capt. Charles Downs was the son of Tisbury grocer William Downs and Love Chase.
The 1858 Walling map clearly marks Polly Manter's house as "C. Downes", although there is no evidence that Capt. Downs lived at this site very long, if at all. Capt. Downs, a mariner, eventually went deaf and died of "paralysis" at the age of seventy-five; Mary moved in with her daughter Lizzie and died at the age of seventy-nine.
About 1873-74, probably after Polly Manter's death, Warren Luce evidently acquired this property, although no deed is on file. Capt. Luce built a grocery store on the south end of the property - see Site #34.
---
Capt. and Mrs. William Cottle Dunham's Home (1874 - 1883)
In September 1874, Warren and Almira N. Luce of Tisbury sold the northern portion of the property, including the dwelling house and outbuildings, to Tisbury mariner William Cottle Dunham (1818-1874) for $900. Warren Luce did not sell the southern portion of the property which included his store, however, and also exempted a barn which he had already sold to William C. Manter, and reserved for himself the use of the cistern.
The lot Capt. Dunham bought was a fifty-nine foot wide L-shaped property on the corner of the lane. It also extended behind Luce's store. Capt. Dunham was the son of William T. Dunham and Sophronia Daggett, and the husband of Mary Crowell (1829 - 1898; the daughter of Tisbury pilot Hebron Crowell and Sarah "Sally" Luce.) They were the parents of William E. Dunham (1847 - ).
Fifty-six-year-old William C. Dunham died of Bright's disease in December 1874, only three months after purchasing this property. In March 1876 the deed to this property and home was transferred by their son to the widowed Mrs. Dunham.
The house burned in the 1883 Fire, the most northerly house burned down. The narrow lane on the north, in combination with a northerly wind, probably helped spare the houses further up the hill from destruction. Mrs. Dunham rebuilt on the neighboring property to the south - see Site #34.
---
Immediately after the 1883 fire. From Left to Right (on the foreground side of Main Street): Laura Robinson's house (#36); Drummer Lane; the ruins of Mary (Crowell) Dunham's house (this site); the ruins of Warren Luce's first grocery store (#34); the ruins of John and Abbie Holmes' house (#33B); the ruins of Mary Crocker's boarding house (#33A); and Church Street (AKA Franklin Street). A large crowd of people can be seen standing near the source of the fire across the street, the ruins of the Crocker Harness Factory (See Site #1). Photo from the 1954 Renear's Garage Calendar, courtesy Bob Renear.
---
Warren Luce's New Grocery Store (1883-1895)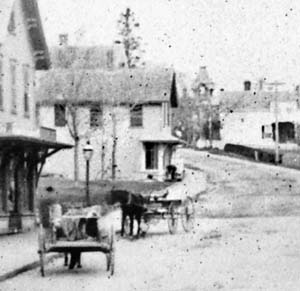 Jessica Crowell Hyatt (1883-?) wrote in her memoir My Vineyard (1974):
"Just down the street from our house was 'Uncle Warren's' grocery store - a small shop but very handy for the 'north end' families. The village was distinctly divided into north and south ends, I suppose because the Main Street running from north to south did have ends and the dividing line was the only street turning off at the center to the east and the boat landing. It was to this store that Grandpa often went on errands, or just to meet his cronies for a gam. We children loved to be sent there on an errand and spend a few pennies for candy lemon balls, gumdrops, peppermint sticks or nonpareils, to carry home in a gaily striped paper bag. 'Uncle Warren' Luce was Grandpa's cousin so we always felt it was in our special privilege to go there, as if in some way the store belonged to the family. I was fascinated by a charm he wore on his watch chain - a tiny ivory model of a bar of Ivory Soap."
Retired whaler Capt. Warren Luce (1819-1907) lost his store on the property to the south in the 1883 fire (See Site #34.) The following week the Gazette reported that he had temporarily relocated to "his store on Wharf street." He then opened a temporary store underneath Capawock Hall until he was able to rebuild. At the end of the month the Gazette reported that George F. Armsby was building a new store for Capt. Warren Luce a short distance north of its former location, on the land of Mrs. Mary Dunham. In September, Luce formally purchased the twenty-five foot wide lot on the corner of the lane from Mary Dunham, and in November 1883 he moved into his new store. (The paper reported that he also continued to keep the store under Capawock Hall, and in January 1884 that he had reopened this "branch store.")
In May 1884 Warren Luce's clerk, Charles F. Chadwick, quit, and Arnold C. Luce was hired as the new clerk (see Site #27 for more on Chadwick), and in July 1886 it was reported that Arnold Luce was continuing to assist Capt. Luce in the grocery.
By the summer of 1888 Capt. Luce's teenage grandson Wilbert A. Call (1873 - 1941) had begun clerking at the store. Wilbert was the son of Capt. Luce's daughter Alice Chase (Luce) Call (1847 - ?) and her husband Charles A. Call (?-1880). In 1886 the widowed Alice married Augustus Chesborough/Chesbro (1845-1910). (Wilbert was the brother of Main street merchant Charles F. "Charlie" Call - see Site #30.) In October 1891 "Mr. Carlson" was reported to be on duty at Capt. Luce's grocery store during Wilbert Call's absence.
The 1886 birds-eye illustration shows Luce's two-story building here, as does the 1888 real estate map. In July 1887 it was reported that "Capt. Warren Luce's store has been connected by telephone with all the telephone offices on the island." In May 1888, Luce was awarded the grocery contract for the Marine Hospital. In January 1889 the store was robbed, although details were not reported. By October 1889 the store was being referred to as the "North End Grocery."
Capt. Warren Luce's store in the late 1880s.
In October 1895, for the second time, a devastating fire destroyed Capt. Warren Luce's grocery store. The news account described it as a 2½ story wooden building that contained his grocery store on the bottom floor, and an apartment above in which he lived. The building was burned to its frame, and through the roof. This time, at the age of seventy-six, Capt. Luce chose not rebuild his store, and instead retired. Before the end of the month he had sold the lot to his neighbor William P. Bodfish for $850. Bodfish, together with Capt. Luce's grandson Wilbert Call, became partners in the new grocery firm of Bodfish & Call.
Capt. Warren Luce died in February 1907, and his invalid widow Almira died less than two months later.
---
Bodfish & Call (1895-1910)
In October 1895 the Gazette reported that "The lot and store formerly owned by Capt. Warren Luce are sold to Mr. William Bodfish, of West Tisbury. Mr. Bodfish will rebuild the store at once with a tenement over the store, which he will occupy with his family. While the building is in process of construction Mr. Bodfish and Mr. Wilbert A. Call will carry on the grocery business, occupying the store that Mr. Ellis Manter moved from. We are very glad that the late disaster by fire was not the means of losing another one of our enterprising young men, but that Mr. Call will remain with us." Bodfish paid $850 for this twenty-nine foot wide lot. In December 1895 Bodfish and Call moved into their new store.
Bodfish & Call may have been partners in business before 1895, although it is unclear what they may have done. In 1893 they jointly loaned $700 to Virginia Hunter in the form of a mortgage.
In November 1896 Polly Bodfish sold her son the adjoining lands in the rear of their store (as well as a four-foot strip to the south.) The following month the Gazette reported that Bodfish & Call planned to erect a stable on the lot in back of their store. In December 1899 the new stable was consumed by fire.
In July 1897 the paper reported that teenager Elmer West was employed as a morning clerk with Bodfish & Call (he was also in the lawn mowing business.) In October 1898 Fred Peakes was temporarily employed as a clerk when Call went on vacation. Orrin Norton clerked at this grocery during the 1899 summer season. By June 1900 Frederick C. Luce was clerking at Bodfish & Call, and was still clerking there in February 1907. In September 1901 Harry Horton, who had been employed as a clerk here for a year, resigned to go work in Providence. In September 1903 it was reported that Ellis Luce had left the employ of Bodfish & Call. Miss Nellie Jewett worked as a cashier here during the 1902 summer season, and returned to work in May 1903. During 1906-1907 she was working as the bookkeeper at this grocery. In November 1907 she resigned as bookkeeper due to her poor health, and in June 1908 Miss J. Annie Smith took her position. In March 1905 William Bodfish's brother Eben D. Bodfish was listed as an employ of Bodfish & Call. In 1906 it was reported that "Mr. Macomber" had been hired by Bodfish & Call - this was probably William E. Macomber, who is also listed as a Vineyard Haven clerk in 1907, and who later went on to work for SBS.
Ad in the 1897 Martha's Vineyard Cookbook. Notice the spelling of "recipe" as "receipt".
In April 1898 Wilbert Call, whom the Gazette called "our young and prosperous grocer" married Maud Herman Athearn (1874-1953) of West Tisbury. She was the daughter of West Tisbury farmer Benjamin Athearn and Cordelia Vincent. The 1900 census of Vineyard Haven lists 27-year-old grocer Wilbert A. Call living with his wife Maud, his brother Charles, his mother and his stepfather.
The business continued to prosper and expand. In May 1899 the paper reported that an addition had been built to Bodfish & Call's establishment, and in February 1903 they bought Timothy Shugrue's laundry business. In 1900 they were one of three Vineyard Haven groceries advertising a "milk lunch." In May 1905 it was reported that they had bought Capt. Otis Foss' store on Commercial Ave. in the Vineyard Highlands and intended to reopen it as a branch grocery. In April 1906 Bodfish & Call bought property on the Vineyard Haven harbor shore together with a new ice plant, and in late 1906 they purchased the ice business and plant of Antone Duart at the head of the Lagoon. In October 1906 Bodfish & Call bought the grain business and building that had been run by Albert Rotch for some years on Water Street, and Mr. Rotch was hired to manage the business. (In December 1907 Rotch repurchased the grain store and business, but this store was later rebought by SBS.) The 1907 Vineyard Haven Directory suggests they also owned the fish market on the Union Street wharf - it lists the expanding business as "Bodfish & Call (Wm. P. Bodfish and Wilbert A. Call), grain, Water, and grocers, Main, and fish, Union wharf." In May 1908 the Gazette reported that "Bodfish and Call have bought the ship chandlery and grocery business now being run by Mr. Fred C. Vincent, formerly Capt. E. St. Croix Oliver store." This store was on the corner of Union and Water Street, next to the Bethel.
1907 ad in the Martha's Vineyard Directory
Tisbury town reports note some of the items bought by the town from Bodfish & Call. In 1901 Bodfish & Call sold the town chimneys, burners and wicks for lighting, as well as brooms and ammonia to the Tisbury School. The 1904 town report again mentions the purchase of brooms, and the 1906 town report shows that Bodfish & Call sold oil to the town, as well as four dollars worth of toilet paper.
Joseph "Joe" Baptiste (c.1868 - 1943) was for many years employed in the grocery and fish market of Bodfish & Call. He was born in Santa Maria island in the Azores, the son of Antone and Amelia Baptiste/Baptistor/Baptista. He worked with his father, a commercial fisherman on Santa Maria, until he was hired at the age of ten to work as a clerk in Flores. His employer had a friend in Boston who was looking for a new clerk, so while still a boy he came to the United States, and from Boston he went to New Bedford for a short while, then worked briefly at a cranberry bog on the Cape before returning to New Bedford on foot. He came to the island in the early 1880s to work on the farm and cranberry bog of Capt. Presbury Smith in Vineyard Haven. After learning some English he was hired as a stitcher in R. W. Crocker's harness factory (Site #1) during its final four years in operation, and then tended masons with Smith & Fuller, before finally becoming involved in the Vineyard Haven fish business in the 1890s. He worked at Bodfish & Call's Union Wharf fish market. After the merger of Bodfish & Call in 1910 he continued working with S.B.S. (see Site #8), and was still in charge of the S.B.S. fish department in 1929. He retired about 1933. He was married to Mary Isabel Betemcurte/Bettencourt.
In September 1910 the paper announced that there was "soon to be a consolidation of the Bodfish interests in the various stores carried on by them in town under the style and title of Bodfish Brothers." In October 1910 William P. and Josephine R. Bodfish sold this lot to SBS Co. as part of this grocery merger, and in November 1910 the paper reported that "Mr. W. W. Call…will take the place at the North End branch grocery of his former partner, Mr. Will P. Bodfish, who spends the winter in a milder climate."
Wilbert Call left the island shortly after. By 1916 he was living in Brookline and working with Rhodes Bros. grocers. He died in a Belmont hospital in 1941. In 1920 census his wife Maud H. Call appeared in Attleboro without Wilbert but with her two teenage children and Norwegian border Ole Borgen. Their son Reginald Athearn Call (1903-1938) eventually returned to the island to work as a truck driver for the Standard Oil Company, and Maud and Borgen returned to operate a general store in North Tisbury.
William P. Bodfish died in December 1924 at the age of sixty. At the time he was the president of SBS. His obituary notes that "Mr. Bodfish had been in ill health for several years, which prevented some time ago his continuance in active business, while he sought restoration of health South and in other sections."
---
The S.B.S. Bake Shop (1910 - 1925)
Stan Lair said: "The Western Union office. At one time it was a grocery store, Bodfish and Call."
"The S. B. S. Bake Shop. I recall that very well. I used to drop in there once and awhile to sit in the back room. Old Joe Correllus used to work there. He'd hand out a fresh-made doughnut, cookies, those sort of things. Right out of the oven. They were good. I used to drop in there very often and chew the rag with the bakers. Then, Averill's Bake Shop was in there, and Humphreys' Bake Shop. Then Jimmy Morrice remodeled the whole first floor and had his florist shop there. He had a hot house in the rear. Later it became Western Auto, and for a short while it was the bank, just for a few short months. Now it is a French restaurant, Patisserie. I don't now how to pronounce it, but I guess it's something like that."
The SBS North End branch grocery evidently continued here until the summer of 1912 when "the Syndicate Stores" specialized, and this store became the SBS bake shop. In July 1912 the paper reported that William Bodfish's daughters Ruth Bodfish and Marian Bodfish were working at the "Swift & Bodfish stores" as bookkeeper and clerk.
The 1914 Sanborn map lists this building as a "Bakery" and makes note of an "Iron Oven" inside.
Joe Correllus' naturalization photograph
Stan Lair wrote that "Hopkins" and Joe Correllus were the bakers at the SBS bake shop. Joe Correllus (1887-1962) was born on Sao Miguel in the Azores, the son of Joseph Furtado Correllus. He immigrated to the United States in 1903, and came to the island by way of Fall River in roughly 1910. The 1920 census lists the 33-year-old immigrant as a baker, living with his family on Summer street. His obituary notes that he "had worked as a baker for the Smith, Bodfish, Swift Co. during the years that company had a grocery chain on the Island and until the bakery was discontinued. In later years he had been employed by a number of contractors in landscaping and construction." He was married to Maria deSousa Estrella AKA Mary E. DeMello (c1891-1927) of Sao Miguel, who was committed in 1925 to the Pocasset Sanitarium and died there in 1927 at the age of thirty-six of tuberculosis. They were the parents of eight children, the eldest of whom, Manuel, became well-known as the superintendent of the State Forest.
---
The Telegraph Office (1914 - ?)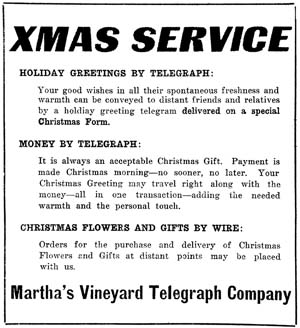 Stan Lair and Ralph Look in conversation:
SL: Telegraph office? Do you remember that?
RL: Yes. Sure. I worked there. I typed out the... oh dear, what's his name there? Maida Luce worked there at the time I was in there.
SL: Oh, did she?
RL: Sure. Remember her?
SL: Sure! She lived on Center Street.
RL: Right! They had a house where Doody Wilkis is now, Doody Stone. She went to New York, finally.
SL: I never knew what happened to her...
RL: Penney, there was a Penney...
SL: Yeah, that's right...
RL: He was in there.
SL: He married Penney's daughter.
RL: Yeah, that's right.
SL: That wasn't his name. What the heck was it?...

John Canha on the telegraph office:
"Yes, I have sent telegrams from the office where the French pastry shop is today across the street from the M. V. National Bank, and a little to the North. Dayton Eddy was a person that worked there. He was two classes ahead of me in school. Today he is Col. Dayton Eddy, Retired (if still living.) He contacted me years ago from his home in Columbia MD, about 25 miles from my present home. His family was well known in V.H. Earlier the telegraph office was located in the Golart building. You could send a telegraph for just a few cents."
In February 1914 the Gazette reported that "The W. P. Bodfish north end grocery since that business was merged in Smith, Bodfish, Swift Co. used as a bake shop is being entirely remodeled to accommodate a telegraph and telephone office in the south side with large windows, doors, &c." The telegraph office had previously been located in Legrand Lockwood Aldrich's store (see Site #23.) The 1914 Sanborn map shows this building divided into two stores. The small southern addition is marked "Telegraph off." and the north building, "Bakery." The telegraph office was probably an addition to the original building.
In March 1914 the paper announced that the Martha's Vineyard Telegraph Company had opened their new 38' x 16' telegraph office: "The newly arranged block is completed, the telegraphic apparatus installed and a young lady operator in charge." The telegraph lines were connected to the Western Union and Postal Telegraph Company's wires. Malva Nickerson was the operator and was in charge of the office. H. G. Haddon was listed as the President and General Manager, although he lived off-island and visited periodically for inspections. George W. Eldridge also evidently had a hand in this business.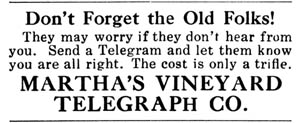 During 1921-23 (and perhaps earlier and later), Maida A. Luce (1900 - ) was the manager in the telegraph office.
By November 1924, a telegraph message from Woods Hole to Martha's Vineyard cost 25 cents.
Two companies, the Postal Telegraph Co. and the Western Union Telegraph Co., each held a 50% share in this company. At the turn of the century, the two companies had jointly bought the telegraph lines from the government to found the Martha's Vineyard Telegraph Company. (See Site #30.) In 1926 the company was bought by Western Union.
It's unclear what became of the telegraph office after its purchase by Western Union. Although an office was maintained here at various times until as late as 1951, there were evidently long periods in which the office was in other parts of town, including the Mansion House (Site #15). By 1930 the Western Union office was probably in the Golart Building - See Site #19 for the later history of the telegraph service.

---
Our Own Bakery (Averill) (1925 - c.1942?)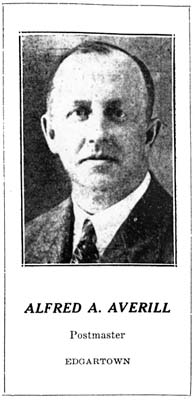 Stan Lair and Ralph Look in conversation:
SL: What about the bake shop? You remember that? S.B.S. Bakery?
RL: Oh sure, sure. Mrs. Swift worked there, for a man in Edgartown. What's his...
SL: Yeah, Averill.
RL: Averill, yep. For years.
In March 1925 Alfred A. Averill (1885-1971) opened a branch shop of his Edgartown business, "Our Own" Bakery, at this location, next to the telegraph office. He leased the store from the S.B.S. Co. who maintained ownership of the building.
Averill was the son of Edgartown school superintendent Andrew P. Averill and his wife Elizabeth Stone. A Tufts graduate, Alfred started teaching in 1905 in the Edgartown schools and eventually became principal of the Edgartown High School, before resigning in 1922. He then opened the first "Our Own Bakery" in Edgartown with his partner (and brother-in-law?)_____ Berube.
Averill became Edgartown postmaster in 1926, and for fourteen years he served as Edgartown selectman and assessor, while maintaining his thriving bakery business. By December 1926 there were three branches of "Our Own Bakery" - in Vineyard Haven, Edgartown, and Oak Bluffs, and by 1928 he had hired A. G. LaBelle to act as his business manager.
By the spring of 1926, Mrs. Josephine Swift was running the Vineyard Haven store. Josephine (Bearse) Swift (c1879-80 - ?) was originally from Santuit, and had married Vineyard Haven grocer Dana Swift in 1906, who during the 1920s was the head purchasing agent of S.B.S. and later became a part-owner (See Site #8.) In July 1930 the Gazette reported that Miss Aletta Martin was assisting Mrs. Swift at the bakery for the summer.
In 1937 recent Tisbury High graduate Parker O. Chapman began working for the bakery. Parker Olive Chapman (1920 - 2000) was the son of telephone company mechanic Clarence P. Chapman and his wife Helen A. Smith. He is remembered as being the bakery deliveryman.
The bakery advertised hot cross buns in the newspaper every Easter, and "High Quality Bread, Cake, and Pastry" in one tourist guide.
John Canha on Our Own Bakery:
"Our Own Bakery I knew was well known, my mother ordered weekly breads from them. My mother bought regular white Portuguese bread and Easter bread at Easter time."


Preston Averill recalls the three or four years he worked for his father's bakery:
"Well I remember being there. I used to bring the food there. I got to be in there because I wasn't doing very good at school, in fact very poorly, and he asked me if I was willing to come down and help him with the business. And I loved the idea, just to get out of school, so I worked all night long just for the privilege of not going to school. So I was sixteen at the time, so that would make it 1933 that I had started working there. I worked in the baker at night and then in the morning I'd deliver the food to the stores. So we had three stores, Edgartown, Oak Bluffs and Vineyard Haven. When I started there, I was sixteen. Seventeen when I started delivering there. And he'd been there for a few years then, so I was too young to remember anything before that. [I drove] a truck that brought the food from Edgartown to Oak Bluffs and Vineyard Haven. It was sort of like a small van, and it had big wooden trays."

"[All the baked goods were made] "in Edgartown. Oh, we had the whole range. In those days the markets carried very little. They just started carrying bread. That's all they had was some bread. The bakeries carried all the other stuff.

[The Vineyard Haven branch store] was a little larger than the Oak Bluffs. Edgartown, of course, was the main one. It did much more, in fact it did all the baking."

"Just one woman worked there, and that's Mrs. Swift, Josephine. I met her every morning when I brought the food up there. She was an interesting person.

"And then in about four, five years later, I guess, he folded. He just ran out of steam, had to close down. He went bankrupt. He was in the stock market. He was doing very good with the bakery, and postmaster, and so forth. And he got investing on market, and got mousetrapped, and lost everything. So Humphreys must have gone right in afterwards because there was sort of a vacuum, perhaps, from ours closing down."

Feb. 10th, 1926 Snowstorm

Parade passing Our Own Bakery and the Western Union office about 1935-40. Chief Flaherty is at the right.
Argie Humphreys' "Vineyard Food Shop" (c.1942 - 1951)
By the early 1940s, this had become Argie A. Humphreys' (1898-1992) bakery.
Humphreys' obituary notes "He began his career as a baker walking the streets of Vineyard Haven and making $10 a week. Then he started selling pies through existing stores. … He was born in 1898 in Wagoner in the Oklahoma territory, son of William and Ella Reed Humphreys. His father a United States marshal was killed by an outlaw in 1900 when Argie was 18 months old. He went to Russelville, Arkansas, where he was raised by his grandparents." He had been married to Bernice Mayhew in March 1928 - at that time he had been working in an orange grove in Riverside, California. He came to the island that year. According to his obituary "For many years he tended the cattle and crops owned by the late Dr. Columus Iselin. At different times during the Depression he delivered mail, drove a taxi, and sold baked goods from door to door." In the 1930 West Tisbury census, Argie Humphries appears as a 31-year-old school bus driver.
Unlike Averill, who trucked in his baked goods from Edgartown, Humphreys did his own baking in this store. By 1951 he was assisted by his daughter Rosalie.
In October 1951 this building was sold to James Morrice, and Argie Humphreys began construction of a bakeshop on his wife's family homestead in North Tisbury, and the following summer they opened their new roadside bakery.
---
Jimmy Morrice' Florist Shop (1951-1958)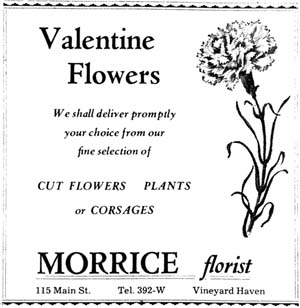 In October 1951 James Forbes Morrice (1917-1988) and his wife Phyllis Hilner (1915-1987) bought this building from the S.B.S. Co., and opened a florist shop. The Gazette wrote, "The store building on Main Street, Vineyard Haven, locally known as the Bodfish Block or Telegraph Building is in the process of being sold by S.B.S. Company to James F. Morrice, proprietor of Morrice Florist." Morrice announced his plans to move the flower shop from his State Road greenhouses into the first floor and remodel the second floor, which contained seven rooms then occupied by Mrs. William Beatty, into two apartments. Leo DeSorcy was hired as the contractor to do the renovation, which included rebuilding the front of the building in red brick and plate glass.
The building was still occupied in 1951 by the telegraph company, which by this time was using it only as a summer office. In December 1951 Western Union signed a five-year lease with the Mansion House, and moved their office out of this building.
Morrice was born in Dundee, Scotland, the son of James H. Morrice and Agnes Maxwell Mitchell Forbes, and came to Vineyard Haven as a boy in 1920. He graduated from the University of Massachusetts' School of Agriculture in Stockbridge in 1939, then returned to Vineyard Haven to open a florist shop on State Road in the early 1940s. Morrice was a co-founder and at one time president of the Chamber of Commerce.

Morrice operated his florist shop here for seven years. In March 1958, they sold the property to the Figueiredo brothers, then moved into a new florist shop on State Road.
---
Western Auto (1958 - c.1965)
In May 1958, Manuel S. "Manny" Figueiredo and his brother William S. Figueiredo opened Western Auto Associate Store No. 171 at this location, on the premises formerly occupied by Morrice florist. For years the Figueiredo brothers had worked with Clarence Davies at the Dukes County Garage.
Manuel Swartz Figueiredo (1917-) and William Swartz Figueiredo (1919-1999) were sons of Jose Swartz Figueiredo of St. Mary in the Azores and his wife Rosa Madeiros of St. George.
In May 1959 they advertised auto accessories, hardware, sporting goods, and toys.
In October 1965 the Figueiredos sold the lot to H. Clinton DeWitt and Marcia B. DeWitt of New Jersey.
---
Bank (196_)
For a very short period during the sixties, it is remembered that a small independent bank was located here, run by ________.
---
Vineyard Utilities (1965 - after 1967)
In October 1965,. The Gazette reported that "Vineyard Utilities, the Vineyard Haven business dealing in bottled gas and gas-burning appliances, has moved to its new location in the Figueiredo building, so-called, opposite the Martha's Vineyard National Bank on Main street. The business was purchased a few weeks ago from William A. Colby [proprietor of the Kitchen Shop - see Site #31] by Mr. and Mrs. Clinton deWitt, and the new proprietors are now in complete charge and at the new stand. All former stock and services will be handled and supplied as usual."
In 1967, Vineyard Utilities was reportedly still at this location.
---
The Patisserie / LeGrenier (1970s -)
By the 1970s, the French bakery The Patisserie Francaise, opened in this building, and the Le Grenier French Restaurant opened upstairs. In a 1981 Chamber of Commerce guide, Le Grenier Restaurant is listed under the management of Chef Owner Jean Dupon and Robin Salisbury.
Today (2002) the Bagel Authority is downstairs, and Le Grenier remains upstairs.
---
Walter Renear writes: "Stan Lair and Fred Peakes had a plumbing business (shop) just over the north wall of [Renear's] north side garage; the office was on Main Street and shared with Henry Cronig's Real Estate. The plumbing shop building was a four sloped roof affair, which I believe still stands behind the current 'Bagel Authority' and on Drummer Lane."

Stan Lair said: "I worked for [Lester Bumpus] until he was killed, drowned, then worked for H. N. Hinckley who ran it for a little while and then Jack Hughes for about a year. That's when we quit and I went into business for myself. Had a little shop right on Drummer Lane, that little old barn that's going down the hill on Drummer Lane. You know where Drummer Lane is? Goes down between William Street and Main Street. There for a long time, then finally the war came along and we quit. I went to work for Mr. Van Riper who's building boat models, ship models."

Former Peakes and Lair Plumbing Shop, June 2002


---



This is an unfinished draft! Do you have any memories of any of the other people, places, businesses or events mentioned here? Or do you have corrections, additions, or suggestions? Please contact Chris Baer <cbaer@vineyard.net>

Return to Church Street to Drummer Lane
Return to Tisbury History