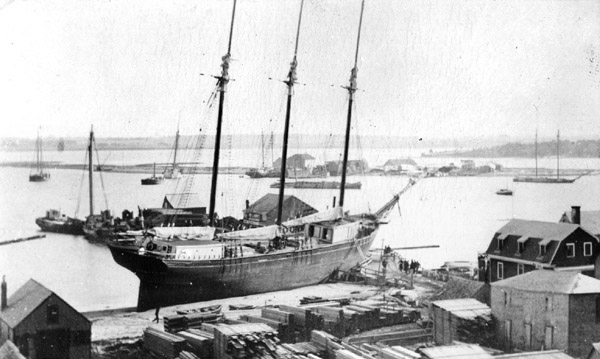 Schooner Newburgh Through Union Wharf, 1898

(from the 1947 Renear's Sales and Service Calendar)

The Schooner Newburgh through Union Wharf after the Portland Gale of 1898. Notice that Union Wharf has been rebuilt around the wrecked vessel. Another wreck can be seen in the distance. Tilton's Lumberyard is in the foreground, and the Bethel is seen on the right. The building in the right foreground was moved further up Union Street and now houses Mad Martha's. In the distance is Beach Road, the Lagoon, and Hines Point.


Keywords: wrecks; storms; gales; disasters; wharves; lumberyards; stores; harbors
---
Return to Tisbury History.
Can you identify any people, things, places, or events in this photograph? How about the time period? Email us at cbaer@vineyard.net.