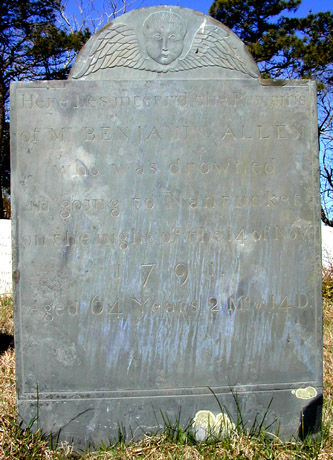 Here lies interr'd the Remains
of Mr. BENJAMIN ALLEN
who was drowned
in going to Nantucket
on the night of the 14 of Nov.
1791
Aged 64 years 2 Mo. & 14 Ds.
---
Benjamin Allen was a Tisbury cooper, the son of Ebenezer Allen and Rebecca Russell, and the husband of Elizabeth Doane and Eleanor Athearn.
See a detail of the headstone!


Back to the West Tisbury Cemetery menu.
Do you have any suggestions, corrections, or comments about this web page? Email me at cbaer@vineyard.net.