Tower Hill Cemetery
also called Old Burying Ground and Burial Hill

Located in Edgartown, Mass.

Photographs and transcripts compiled by C. Baer, 1999. Biographical notes are from The History of Martha's Vineyard by Dr. Charles Banks.
These photographs and transcripts were collected from the oldest colonial gravestones at Tower Hill Cemetery in Edgartown, Dukes Co., Mass. The photos were taken with a digital camera in February, 1999.

Alphabetical List of Gravestones:

Mrs. Mary Beetle (1746)

Mrs. Anna Butler (1733)
Henry Butler (1737)
Zephaniah Butler (1721)

Joseph Chase (1749)
Lydia Chase (1749)

Mrs. Abiah Claghorn (1730/31)
James Claghorn (1749)

Seth Cleveland (1734)

Mrs. Hepsibah Coffin (1736)
Hepsibah Coffin (1736/37)
John Coffin (1711)

Rev. Jonathan Dunham (1717)

Thomas Harlock Esq. (1744)

Shubael Hawes (1722)

Mary Little (1726/27)

John Logan (1730)

Mrs. Mehitable Lothrop (1733)

John Norton (1730)
Joseph Norton Esq. (1741)

Jeremiah Pease (1749)

Benjamin Smith Esq. (1720)
Benjamin Smith Esq. (1737)
Mrs. Jedidah Smith (1735/6)

John Stanbridge (1730)

Robart Stone Sr. (1689/90)

Benjamin Sumner (1739)
Susanna Sumner (1740)

Mrs. Abigail Trapp (1717/18)
John Trapp (1717/18)
Mrs. Sarah Trapp (1718)
Thomas Trapp (1719)

Rev. Samuel Wiswall (1746)

Mrs. Ann Worth (1724)
Mrs. Dorcas Worth (1730)
John Worth Esq. (1731/32)
---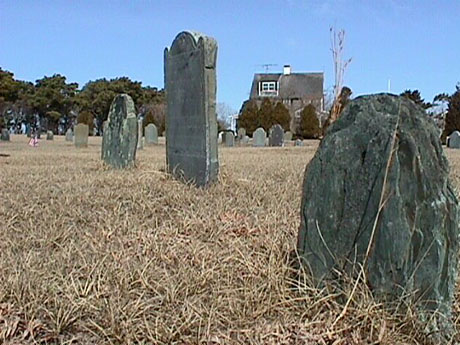 Tower Hill Cemetery. More views!

---
Do you have any suggestions, corrections, or comments about this web page? Email me at cbaer@vineyard.net