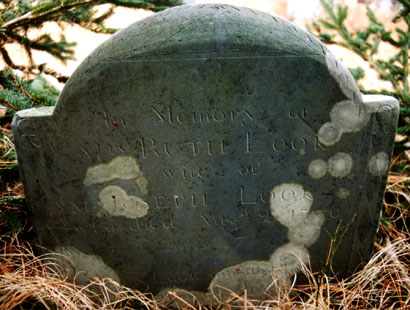 In Memory of
Mrs. RUTH LOOK
wife of
Mr. JOSEPH LOOK
who died Augst 2 1770
Etatis 27
ALLEN LOOK son to Mr. JOSEPH
& Mrs. BATHSHEBA LOOK
died Augst 17 1793
Et 6 Y's & 7 M's.
---
Mrs. Ruth (Tilton) Look was the daughter of Thomas Tilton and Jemima Mayhew, and the wife of Tisbury cordwainer Joseph Look.Allen Look was the son of Joseph Look by his second wife, Bathsheba Look.
See The Look Family of Martha's Vineyard for more information about this family.


Back to the West Tisbury Cemetery menu.
Do you have any suggestions, corrections, or comments about this web page? Email me at cbaer@vineyard.net.