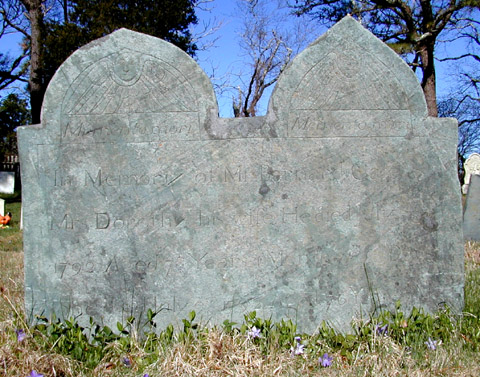 Memento mori | Memento mori
In Memory of Mr Barnard Case &
Mrs Dorothy his wife. He died July 8th
1792 Aged 78 Years 1 Month & 16 Days
She died July 9th 1792 Aged 76 Years 9 Mo
nths & 16 days
---
Barnard Case was a Tisbury yeoman, the son of Tisbury weaver William Case and Hope Hamlin. Dorothy (Hammett) Case was the daughter of Edward Hammett and Experience Bowles. They died within eight hours of each other.

For more information see The Hammett Family of Martha's Vineyard.

Back to the West Tisbury Cemetery menu.
Do you have any suggestions, corrections, or comments about this web page? Email me at cbaer@vineyard.net.