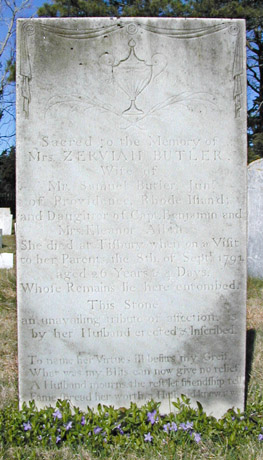 Sacred to the Memory of
Mrs. ZERVIAH BUTLER
Wife of
Mr. Samuel Butler Junr.
of Providence Rhode Island;
and Daughter of Capt. Benjamin and
Mrs. Eleanor Allen.
She died at Tisbury when on a visit
to her Parents the 8th of Sept. 1791
aged 26 years & 4 days.
Whose Remains lie here entombed.
This Stone
an unavailing tribute of affection, is
by her Husband erected & inscribed.
To name her virtues ill befitts my Greif
What was my Bliss can now give no relief;
A Husband mourns the rest let friendship tell
Fame spread her worth a Husband knew it well.
---

Mrs. Zerviah (Allen) Butler was the daughter of Tisbury cooper Benjamin Allen and his wife Eleanor Athearn. See The Butler Family of Martha's Vineyard for more information.


Back to the West Tisbury Cemetery menu.
Do you have any suggestions, corrections, or comments about this web page? Email me at cbaer@vineyard.net.